VOCAL BLOKES
A Wellington-based community male-voice choir
Haere mai. Welcome to our Vocal Blokes website.
We are a group of men who enjoy singing every Wednesday.
7.00 to 9.00 pm, the former Salvation Army Hall, 209 The Parade, Island Bay, Wellington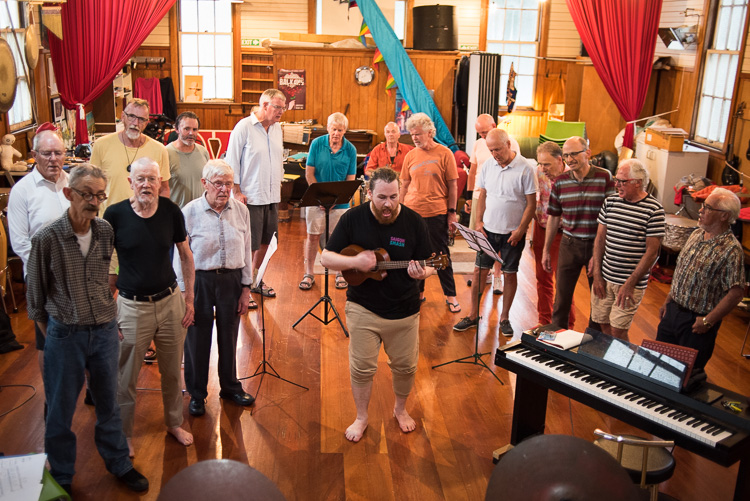 Vocal Blokes was formed in 2020.
We are a group of around 20 – 25 men who look forward to singing a varied portfolio of songs each week. We learn by listening to harmonies, performing 'a cappella', and accessing audio and music scores.
OUR SONGS: We sing folk, blues, world music, popular songs, ballads, and new works composed by our director.
OUR SONG LEADERSHIP:
Nino Raphael is our young music director and we enjoy his enthusiastic, creative and encouraging leadership. During his recent studies at Victoria University and the New Zealand School of Music, he focused on theatre and vocal performance. He has been an opera singer, actor, director, teacher and song leader in Wellington. Nino has worked in communities, in theatre companies and promoted sustainability within the arts. After finishing his Masters in Fine Arts (Creative Practice) in theatre, specialising in playwriting and ensemble directing, Nino has been working freelance as an artist and as a live entertainment programmer at the Roxy Theatre in Miramar.
Andreas Lepper, our percussionist, has been a performing, recording, initiating & managing percussionist around the Cook Strait area since arriving from Europe in 1982. Many genres have affected him but Caribbean, South American and Balkan rhythms led him to join bands such as Toro Loco Banda, Paris Troika, Zamba Flam, Sulco d'Alma, Balkanistas, Balkany. His focus includes working with youth, the performing arts, facilitating sessions with people marginalized by mental illness and those with intellectual, physical, and associated disabilities. We enjoy Andreas' lively, supportive and creative accompanying role in Vocal Blokes.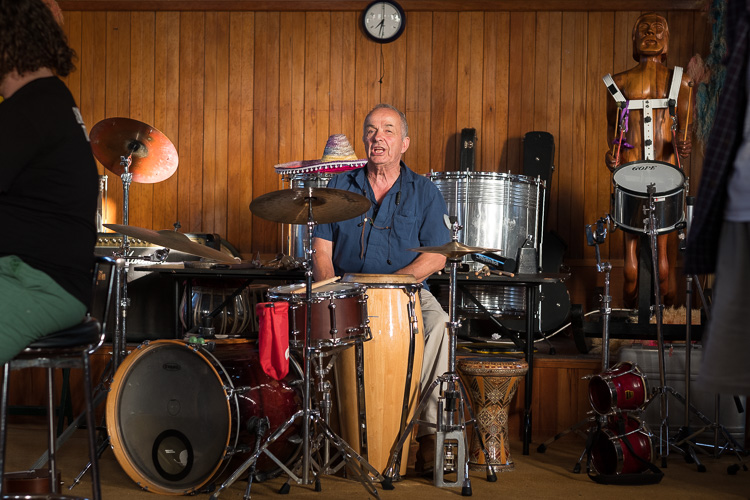 OUR MEN: Some of us read music, some had never sung in a group before and some have previous experience in choirs. We are men of all ages who enjoy the camaraderie we have together.
OUR PURPOSE: We are a secular group who sing for pleasure. Public performances are an addition to our prime enjoyment which comes from listening to each other exploring sounds.
OUR ENVIRONMENT: We meet in a relaxed studio surrounded by instruments our percussionist encourages us to play. Our director sings with us. There is laughter, friendship, banter, free movement and time to relax.
PERFORMANCES: We sing in concerts and events. In 2021 Vocal Blokes presented a show 'Real Men Don't Sing', produced by Nino, in the Wellington Fringe Festival. The Vocal Blokes ethos includes energy and drama in rehearsals and performances and we are interested in meeting requests asking us to perform.
OUR HISTORY: Many of us sang from 2007 to 2019 in 'MaleVocale', an ensemble that performed in Cuba Dupa, Beervana, in the film 'No Ordinary Sheila', opened for a touring group, and presented to full houses in annual concerts.
MEMBERSHIP: We welcome your enquiry and attendance at two sessions to see if we suit each other. There is no audition. Fees are $115 (full rate) or $80 (Concession). No-one is turned away for lack of funds. For members who join part way through a term, fees are on a pro rata basis. Donations are gratefully received.
For more information and to be welcomed to Vocal Blokes, contact us at: mail@vocalblokes.org.nz, or mobile 021 212 0204